Apostilled Translations, What is It?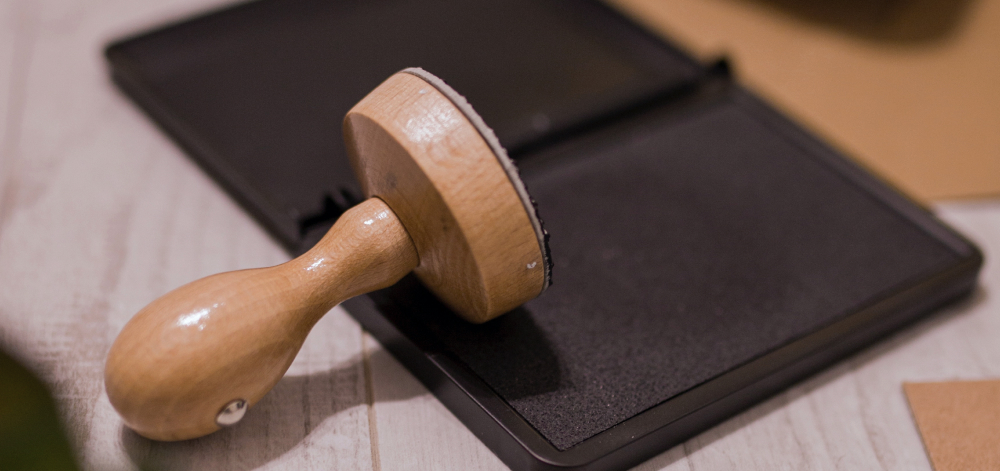 Lots of our clients wonder what an Apostille is and what it is for. Often the Apostille stamp is confused with the official certification of translations that we provide. Let's find out why and on what documents an Apostille is affixed and how it differs from other types of certifications.
So, an Apostille is a special stamp of a unified form, necessary to confirm the authenticity and validity of a document on the territory of a foreign country. And this is its key difference from Notarization or Affidavit, which only certify the authenticity of the signature. Apostille greatly simplifies the process of document flow among signatory countries to the Hague Convention. These include most countries in Europe, Asia and America. It should be noted that many countries require documents to be provided in their official language.
Can a translation be certified with an Apostille?
No, translations of public documents are not certified with an Apostille. If an official translation is required, the original document should be apostilled first and then the translation into the requested target language should be done.
What documents are apostilled?
Only originals or certified copies of official documents issued by a public authority or certified by a Notary Public can be apostilled.
For example:
Documents issued by Civil Registry Offices: Birth, Death, Marriage Certificates, etc.;
Originals or copies of documents issued by educational institutions: Diplomas, Certificates, etc.;
Notarial deeds: Powers of Attorney, Consents;
Other: Certificates of Clean Criminal Record, Certificates of Employment, Archival Documents, etc
Where the documents are apostilled?
An Apostille is affixed in the country where the document was issued or authenticated. A translation agency is not authorized to apostille documents!
Within Cyprus, the Ministry of Justice and Public Order is the competent authority for apostilling documents issued by public authorities to be submitted abroad.
What documents do not require an Apostille within the EU?
Pursuant to EU Regulation 2016/1191, as from 16 February 2019, certain documents issued by public authorities in one Member State and submitted to public authorities in another Member State may not require an Apostille. It is also possible to request a multilingual standard form when a document is issued. The full list of documents can be found here.
Dou you need a translation?
What documents are not apostilled?
Commercial documents (contracts, invoices, trade or customs documents), medical documents, identity cards and documents issued by diplomatic or consular services cannot be apostilled. However, it is still possible to apostille a notarized copy of such documents.
Should an Apostille be translated?
Pursuant to Article 4(2) of the Convention, an Apostille may be made in the official language of the issuing authority. It follows from Article 3(1) that the only formality that may be required to certify a document is the affixing of an Apostille, no further formalities such as the translation of the Apostille are provided for. However, our practice has shown that if the Apostille is not duplicated in a language understood by the country of origin, this may cause difficulties with the acceptance of the document. In such a case, it is better to have the document translated together with the Apostille and then notarized or certified at a court.
Peculiarities of an Apostille translation
The translation is done strictly according to the original.
All abbreviations and acronyms must be expanded. For example, MJPO stands for Ministry of Justice and Public Order. (Item 5 in the example).
Item 8 of the Affidavit refers to its number and does not need to be expanded.
Signatures, seals, stamps and any other marks must be specified in the translation and executed accordingly.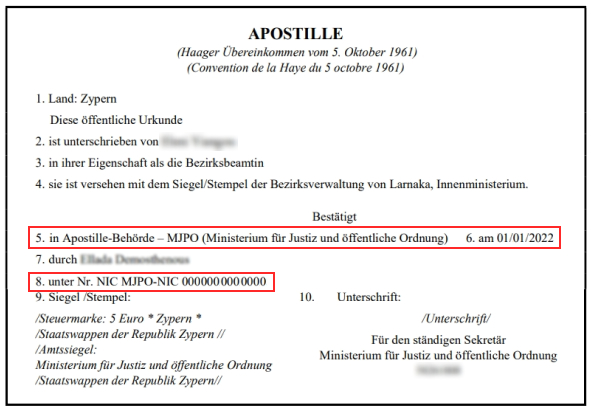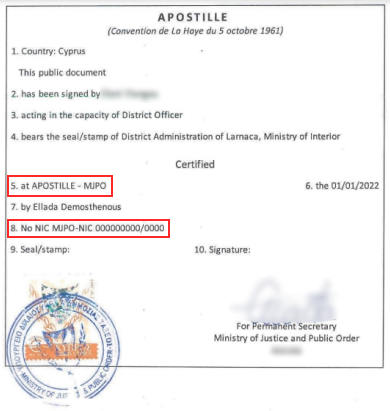 How long is an Apostille valid for?
The stamp has no expiry date, but this rule does not apply to the document to which it has been affixed. Therefore, if a document is no longer valid, it must be renewed and re-apostilled.
How much does an Apostille cost?
Each country determines the cost of apostilling. In Cyprus, a stamp duty stamp of EUR 5 is payable. It can be purchased at any post office.
CY TRANSLATION provides all types of official certifications. Over the years, we have dealt with different situations where government agencies and institutions have very specific requirements for documents and we are confident that we will always find a way to meet them. Using our experience, we can help you avoid red tape.
Оцените статью по 5-бальной шкале